PROFILE:
To face the complexities of the contemporary business world is a way of life at Vishal Foundry , to overcome its challenges, a habit. The quest for perfection, its inspiration. No wonder from its humble beginnings the company has continued up gradation of Technology and equipment for high quality castings.
Vishal Foundry, has been incorporated in the year 1994 , situated at Rajkot (Gujarat,India) is an ISO certifed company. Our journey has started at 1975 by the name of M/s. Bajarang Foundry, by its founder Shri Nathubhai Patel & Shri Nitinbhai Patel, where we supply high grade castings to our value added customers.
The foundry is managed by well experienced professionals with more than 15 years rich experience in foundry technology.
INFRASTRUCTURE & CAPABILITIES
CASTING :
Vishal Foundry, a well laid out Modern Plant Manufacturing the total spectrum of I Sand Casting made from ferrous metals and its alloy Nickel & Cobalt based super alloys.
: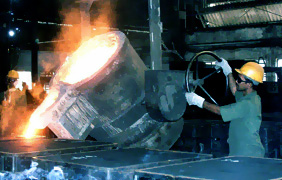 Plant Capacity:
We are doing sand casting using Induction furnace in which any component from 0.05 KG to 500 KG is done by well experienced professional . Our production capacity is 15000 Ton per year.
We are doing following process for castings.
1. No Back System
2. CO2 Process
3.Green Sand Process
4.Mouless Process
INVESTMENT CASTING
We are doing Investment Casting by lost wax process as it is the most flexible metal forming technique available and also the most cost effective way of designing and manufacturing components for a wide range of manufacturing industry.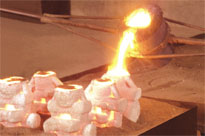 With an installed capacity of 300 MT per annum we are supplying investment castings to our value added customers. Any components from 1 Gram to 100 K.G. is potential for investment casting. Full design flexibility extremely superior physical and metallurgical properties, excellent size control near perfect surface finish with extremely tight tolerance are the distinguished features of Investment casted components. In addition its capability to cast virtually and metal/alloy, in ferrous and non ferrous category, to very close tolerances gives a clear lead over the conventional casting process with a definite cost advantage eliminating in most surfaces the requirement of machining. In short creates a near neat shaped component which were earlier thought impossible to achieve.